FOR IMMEDIATE RELEASE
April 18, 2012
For more information contact:
Kandi Mossett
Indigenous Environmental Network
Native Energy & Climate Campaign Organizer
701.214.1389
iencampusclimate@igc.org
Evictions, Price Gouging, Natural Gas Burn-off, Crumbling Infrastructure, and Death:  The energy boom is not progress, it's waste and extreme violations of human and environmental rights!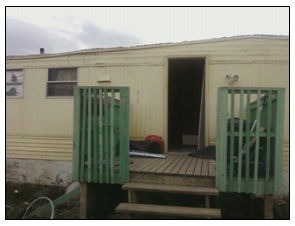 New Town, ND – Forced evictions, of local residents from their mobile homes in the New Town area, to provide housing for predominately out-of-state oil workers has reached a new low.  On Monday, April 16th, Four Native American residents of the Prairie Winds Mobile Home Park, including a 9-year old child, were forced to leave their home when landlord, Leroy Olsen, removed Heather Youngbird and Crystal Deegan's front door. Olsen then cut the electricity and turned off the propane to the home, and told them they had to leave their home immediately.
The battle for housing in North Dakota has been an on-going struggle since the onset of the oil boom in the Bakken Shale Oil Formation, which partially lies in northwestern North Dakota.
The housing crisis has been growing exponentially worse, particularly within the million-acre Fort Berthold Indian Reservation; homeland of the Mandan, Hidatsa, Arikara tribal nations.
Crumbling Infrastructure and Severe Housing Shortages
Tribal members, as a result of this boom, are experiencing some of the most severe consequences from the lack of proper infrastructure to support this intensive extractive industry.  Infrastructure is inadequate at all levels in North Dakota- from crumbling roads and the lack of proper sewage facilities in the various man camps that have popped up across the state, to a severe shortage of adequate housing.   

Who Is Prospering?
It's estimated that the state of North Dakota, to date, has collected at least $100 million as a result of the oil boom through revenue generated from Fort Berthold alone, while the majority of Fort Berthold residents haven't seen a dime. In the meantime, roads are crumbling as semi-trucks take over with no regards for safety. Several deaths have occurred over the past few years as a result of accidents between the semis and local Native American residents; at least 6 of the deaths involved young people under the age of 27 with the youngest being 3 years old.
With the "Boom" Comes Guns and Crime
Crime, drug and death rates have increased all across the state as firearm sales have hit an all time high.  Prostitution rings are being formed and rape rates for both men and women are on the rise with police enforcement struggling to keep up and yet North Dakota Governor Jack Dalrymple has said, "Build America back on the same blueprint that North Dakota has adopted and our country will surely be rewarded with the same great economy our state is enjoying."
Gas Flaring – Why are they burning it off?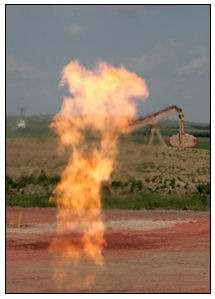 Additionally, within the Bakken shale formation hydraulic fracturing is being used to extract the oil but the natural gas is being flared off.  A New York Times article points out that more than 100 million cubic feet of natural gas is being flared away every single day in North Dakota.  That's enough energy to heat half a million homes for a day. The flared gas also spews at least two million tons of carbon dioxide into the atmosphere every year, as much as 384,000 cars or a medium-size coal fired power plant would emit.  Regulations on flaring are woefully inadequate as well in North Dakota and there are no current federal regulations on flaring for oil and gas wells.
Wind Has Taken a Back Seat to Oil
Perhaps the greatest irony is that North Dakota has the greatest wind resource of any of the lower 48 states.  According to National Wind, LLC, "With all of its wind power a class 3 or higher, North Dakota could supply 1.2 trillion kilowatt-hours (kWh) of annual electricity, which is 14,000 times the electricity consumption in the state." Unfortunately, programs for wind power generation and distribution have recently been cut back within the state while the focus is on the extraction of the oil, with almost no regard to the human health impacts and environmental devastation occurring.
Divided Communities
"This oil boom has divided the Mandan, Hidatsa and Arikara people and pitted them against each other in a negative way," says tribal member Kandi Mossett.  "It's really hard to see the damaging and negative effects occurring at Fort Berthold and throughout North Dakota as a result of corruption and greed.  The reality is that people in positions of power at both the Tribal and State level are lining their own pockets, while the Mandan, Hidatsa & Arikara people suffer and in some cases die as a result of this terrible oil boom.  I want people to know the reality we are facing here and to realize that at this rate we are heading toward modern-day genocide of the people, while the BIA and others stand idly by and let it happen."
The Fight For Prairie Winds – Their Homes & Future
Prairie Winds mobile home residents refuse to stand by while their homes are ripped out from underneath them and held a protest this past Saturday in New Town geared toward Mobile Home Park owner, John Reese.  Residents of 45 trailers have until August 31st to move after the mobile home park was sold with plans to develop it to house oil workers.  Future Housing LLC bought the property and plans to construct housing for employees of United Prairie Cooperative, formerly Cenex of New Town.
John Reese, the CEO and general manager of United Prairie Cooperative and agent for Future Housing LLC, has said the company is trying to work with the residents. Initially, the eviction deadline was set for May 1, but it's been postponed until Aug. 31.  The residents have not been given any restitution to help with moving expenses, therefore, if they cannot afford to move their homes they are left with limited options and facing homelessness.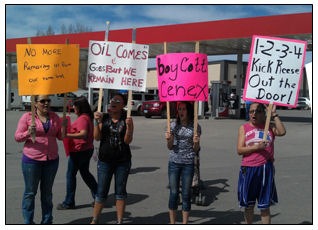 "Just because there's a lot oil around here doesn't mean we all have money," said Heather Youngbird of New Town.  "We were not even given a formal 30 day eviction notice and now that we have been kicked out of our home we are currently homeless."
Reese said in an interview last month the housing shortage in the area makes it difficult for him to find employees.  Available land to develop housing is also difficult to find, he said.  "Right now, anything that's available that has water and sewer on it is very attractive to anybody that's trying to continue to grow their business."  On Saturday, Reese said he was aware of the protest but he was out of town planting potatoes.  Many of the signs and chants targeted Reese directly.   "I'm just fine with taking the rock beating," Reese said.  Indeed John Reese has proved that he's fine with displacing people because this isn't the first time he's done it. In 2010 he displaced people from the Four Corners trailer court behind the old Charbee's and the second time he displaced people from the old movie theater apartments on main street.  Tribal members are still paying back loans they had to take from the tribe to help pay for the moving expenses.
###