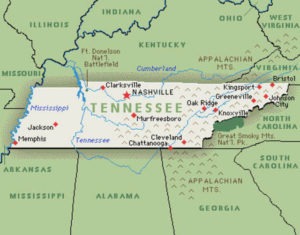 By Scott Banbury
States to the North and West of Tennessee―Illinois, Ohio and Arkansas―are already fracked. Other surrounding states―Georgia, Alabama and Kentucky―are in the industry's sights, and it feels like there's a big bullseye painted on Tennessee. While the industry has been dog piling on Pennsylvania, Ohio and Arkansas for production, they've been greasing the gears of government here in Tennessee, establishing their right to ruin in Illinois and beating back the opposition in North Carolina.
Due to current low prices for natural gas, the industry does not appear to be pulling a lot of permits in Tennessee at the moment, but with new regulations soon to be in place and a looming export market, with accompanying price hikes, they may be booming soon.
New state regulations on hydraulic fracturing, which are due to go into effect on June 18, do very little to protect water, land or air. These rules were drafted in 2011-12 by the Tennessee Department of Environment and Conservation (DEC), with the assistance of the Tennessee Oil and Gas Association, and approved by the Tennessee State Oil and Gas Board in September 2012—just before the board became known as the Water, Oil and Gas Board.
While many organizations, including Sierra Club, Southern Environmental Law Center, Tennessee Clean Water Network, Tennessee Riverkeeper, Harpeth River Watershed Association, Statewide Organizing for Community eMpowerment, Tennessee Citizens for Wilderness Planning and more, submitted extensive comments and participated in numerous meetings, both public and private, few of our concerns were addressed and not one of our serious suggestions were incorporated.
These new rules essentially codify current practices, while ignoring mounting evidence nationwide that fracking is fraught with danger—poisoned wells and ground water from migrant methane and fracking chemicals, human and animal sickness from exposure to fumes and ground level ozone formation, polluted streams from run off from well sites and roads, and continuing contribution of fossil carbon to our atmosphere.
Instead, we're offered rules that effectively deny public notice and participation, shield the industry from having to disclose the chemicals used to frack to the public, fail to protect landowners from damages by not requiring baseline testing of area drinking water wells before the fracking commences and establish an arbitrary 200,000 gallon water use threshold to trigger more stringent requirements, a requirement that may prove to be meaningless as all of the known fracking operations work under this threshold.
The rules have been sitting on the desk of Tre Hargett, Tennessee Secretary of State (who also happens to sit on the Executive Committee of the State Building Commission), since March 20, where they wait for 90 days before becoming the law of the land. During this time the Joint Government Ops Subcommittee on Rules Review may be required by State Administrative Procedures to hold a public hearing. Keep your ears and eyes peeled for action alerts.
On a parallel front, the State Building Commission's Executive Committee unanimously voted without discussion to allow the University of Tennessee (UT) to move forward with their proposal to frack the school's 8,000+ acre Cumberland Experimental Forest in Morgan and Scott Counties, despite the overwhelming opposition of the environmental community and concerned neighbors. Sierra Club, Frack Free Tennessee, Student Environmental Network and Statewide Organizing for Community eMpowerment turned out more than 75 people at a rally outside and dominated the public comments inside and despite losing the vote, we made the news in Nashville, Knoxville, Chattanooga and even the New York Times, with the Tennessean editorializing on our side.
UT now claims (since last year) that they only want to pursue oil and gas development on the property to "research" best practices, but the paper trail shows that they have been shopping the minerals around for at least eight years with a clear desire for revenue. The proposal is currently out for bid, and will return to the State Building Commission for final approval when UT negotiates a contract with a drilling company. That meeting should be lively as it has come to light that several of the State Building Commission members may have serious conflicts of interest. In the meantime, parameters of the "research" to be conducted, as private companies profit, will be advised by an advisory panel including representatives of the Tennessee Environmental Council, Tennessee Citizens for Wilderness Planning, Statewide Organizing for Community Empowerment and Southern Environmental Law Center.
We have little reason to expect that the Joint Government Ops Committee will reject Tennessee DEC's proposed fracking rules, and some folks in the environmental community think we should let them go into effect while we bird dog the industry with site visits targeting violations of the new rules in the interest of documenting needed revisions to the rules in a year or so. Others think we should reject the proposed rules, and petition for new rule making, knowing that we have a lot more informed folks ready to drive that process than we did two years ago, and some think that we might challenge some of the more egregious provisions, like the arbitrary 200,000 gallon threshold for chemical reporting, public notice and well sampling on substantive grounds. We also are inspired by the recent bill introduced that would require full public notice of exploration and mining permits, and wish to push for similar legislation.
On the UT front, we'll be watching the development of "research" parameters closely, turning folks out in opposition to future State Building Commission meetings and engaging UT students who are working on fossil fuel divestment campaigns on their campuses. We'll also be documenting what is at stake on the Cumberland Forest and positioning ourselves to do a little research of our own.
In the field, Sierra Club, along with partners Frack Free Tennessee, United Mountain Defense and students from University of Tennessee at Knoxville, University of Tennessee at Chattanooga and Middle Tennessee State University, will be launching an aggressive site violation and water monitoring program this summer, visiting currently permitted sites on public lands across the state. Fruits of this work will be GIS mapping of the industry's current presence in the state, outreach to impacted communities and constituent building in advance of next year's legislative session.
In Chattanooga, Stop Fracking Around Chattanooga (SFAC) is rolling out a campaign to pass fracking bans in the Chattanooga City Council and Hamilton County Commission. SFAC will also be embarking on an aggressive landowner/constituent outreach campaign to advise folks of their landowner rights and the dangers of fracking to their quality of life. Their campaign raises awareness of the dangers of fracking in the Chattanooga Shale formation, which contains known concentrations of uranium and radon gas, as well as Chattanooga's legacy of being once "The Most Polluted City in America" when Congress passed the Clean Air Act in 1970, and the numerous abandoned mines that are being mitigated into perpetuity at taxpayers expense.
Regionally, the Tennessee Chapter of the Sierra Club is networking with sister chapters and others in surrounding states to make sure that we are all sharing our experience with the industry and our state governments in the hopes of avoiding mutual pitfalls or missteps. Toward this end, I have arranged for time and space to have a regional discussion on fracking at the Heartwood Forest Council at Land Between the Lakes on Memorial Day weekend, May 24-27.
We are facing an invasion of the fracking industry. They have their eyes on exploiting oil and gas across two-thirds of Tennessee and we are the only ones that can, or will, stop them. At stake is our water quality, air quality, biodiversity, quality of life and the future of the planet. It is absolutely clear that we must leave all fossil carbon in the ground if we are to avert the worst of climate change. Think globally. Act locally. Join the fight.
Article Source: EcoWatch