BP's top bosses contended with screaming environmental protesters, a backlash on executive pay and more anger over the company's record in the Gulf of Mexico at an eventful annual meeting today.
A number of activists were carried from the ExCel centre in London after staging a bizarre demonstration against BP's attitude towards climate change.
BP's board was asked by an undercover protester if it had a "spaceship" to allow its members to escape environmental catastrophe before the man and several colleagues played dead on the floor and refused to move. No arrests were made.
Meanwhile, a shareholder said BP gave the impression the board had its "snout in the trough" by awarding chief executive Bob Dudley an annual bonus of 850,000 US dollars (£540,000).
The criticism was backed by a large number of investors as 11% of shareholder votes were against the company's remuneration report.
Before the meeting started, Derrick Evans, from Gulfport, in Mississippi, said BP's clean-up operation in the wake of the Gulf of Mexico disaster had been a "complete fiasco".
"The oil is not gone," he said outside the meeting. "The general perception is that BP made a mess and BP did a big clean-up and everything is all fine. Nothing could be further from the truth."
BP has so far paid around 7.5 billion US dollars (£4.7 billion) in clean-up costs and compensation, with more than 200,000 individuals and businesses claiming compensation from the 20 billion US dollar (£12.5 billion) fund set aside for victims of the Deepwater Horizon disaster.
Mr Dudley told shareholders that BP's guiding principle on the clean-up was "not to do the minimum as required by law, but to do the right thing".
He added: "We have continued to devote people and resources to the area and we are seeing recovery. The beaches are open and 2011 was a great year for tourism. Independent studies have shown that Gulf seafood is safe to eat."
And defending the company's pay packages, chairman Carl-Henric Svanberg said BP "works to understand the mood and the society in which we are based".
BP also faced a protest from environmentalists opposed to the development of Canada's tar sands by BP as a major oil source.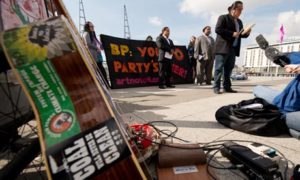 Clayton Thomas-Muller, who is the tar sands campaign director for the Indigenous Environmental Network in Canada, urged shareholders to call for a withdrawal from the area in Alberta, Canada.
After protesting outside in front of banners reading "BP out of the tar sands" and "BP your party's over", Mr Thomas-Muller addressed the board.
He asked what "contingency plans" the company had if it lost a legal challenge against its development.
Mr Dudley said he believed the development of "oil sands" was "good for Canada" and explained that BP used a less-invasive procedure requiring steam to harness the oil from the sands in Alberta.
BP reported annual replacement cost profits of 23.9 billion US dollars (£15.1 billion) in 2011, compared with a loss of 4.6 billion US dollars (£3.1 billion) the previous year.
BP saw its shares rise sharply last month after a £4.9 billion deal with 110,000 businesses and individuals over the Deepwater Horizon disaster.
The out-of-court settlement worth 7.9 billion US dollars (£5 billion) was less than expected – but it still faces a challenge from the US Department of Justice.