I am discouraged and saddened to hear and see pictures of this millions of gallons waste water that was accidentally spilled by EPA turning Cement Creek water orange.  It breaks my heart to know that this will have a great impact on all life itself.  Denver Associated Press report on August 7, 2015:
"EPA Accidentally Spills Millions Of Gallons Of Waste, Turning River Orange – Oops. A federal cleanup crew intended to treat the water."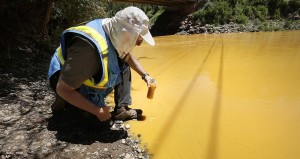 "DENVER (AP) — A million-gallon mine waste spill that sent a plume of orange-ish muck down a river in southwest Colorado on Thursday was caused by a federal mine cleanup crew.
The U.S. Environmental Protection Agency said that a cleanup team was working with heavy equipment Wednesday to secure an entrance to the Gold King Mine. Workers instead released an estimated 1 million gallons of mine waste into Cement Creek.
"The project was intended to pump and treat the water and reduce metals pollution flowing out of the mine," agency spokesman Rich Mylott said in a statement.
The creek runs into the Animas River, which then flows into the San Juan River in New Mexico and joins the Colorado River in Utah."
On August 8, 2015 Ft. Berthold Protectors of Water and Earth Rights along with Indigenous Environmental Network hosted our first annual 2015 Water Blessing and Healing Walk.  We prayed for all the sacred waters of the Earth.
For centuries we Native Americans were forced into this society and became modernized by the non-Native American.  We all have heard of stories from our relatives who attended the boarding schools.  Beaten because they spoke their language dramatizing them so they were afraid to teach us.  What happened to the Native American is not taught in non-Native American schools. The historical trauma has had great effects on us, we are losing our language and our way.  This land was taken from our ancestors, today it is under destruction from industrialization and money.
This is reality, we need more people to stand up for Mother Earth.  Not only is this 3 million gallon waste water spill into Cement Creek will have great effect on all life we have it happening rite in our own community, the 1 million gallon brine (salt water) spill that was discovered July 8, 2014.  Which Arrow subsidiary of Crestwood has not been charged/fined nor was there a proper clean up.  What flows downstream affects all life.  Today from Mandan, Hidatsa, and Arikara nation there is only a hand full of us fighting for Mother Earth.  We need to be proactive and need awareness of all this industrialization such as the oil and gas impact.  We must demand updated environmental codes/laws, environmental justice and more research.  We cannot take Mother Earth for granted.  Our instructions by the creator is to Protect Mother Earth. We must act now for our future generations!
The destruction of Mother Earth from industrialization is just one of the problems.  We have increase of drugs and alcohol, prostitution and human trafficking, with new comers bringing their values and way of life who are being serviced before the people who lived their whole lives here.  Such as our roads that crumble while North Dakota county and state roads that were not paved are being paved.
Again don't be blinded by the money.  You can't buy life and you can't buy health.  More money doesn't equal better quality of life, if you don't invest in your own and community's' future.  If our land and environmental quality is degraded we don't have a future to look forward to.  Our lives are tied to our ancestral homeland and we are literally letting it go without a fight.  There is only one Earth and Water is the veins of the Earth!
"Only when the last tree has died, the last river has been poisoned, and the last fish been caught will we realize we cannot eat money."  Native American Proverb
Lisa DeVille, Mandaree, ND  (B.S. Environmental Science)