By: Edgar Franks, Community to Community Development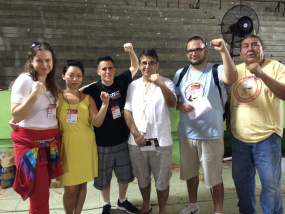 Solidarity between different fronts of struggle was apparent at the opening day of the #EndWTO Bali Week of Action.  From the Philippines to Thailand to Korea to Africa, every speaker called out that the current economic and governing systems and the expansion of neoliberal and neocolonial policies are hurting people and endangering the planet.  They called for the end of the WTO, the end of free trade agreements, and the creation of true people's alternatives in its place.
The solidarity proposed by the speakers and presenters made it clear that no matter where you are from or what is your fight, the liberation of one group is directly connected to the liberation of another. Allies and networks can be formed with groups and individuals we may have never considered before but because of the current climate and economic crises' it is crucial to make those links and connections.
I was particularly moved by the testimony of a sex worker from Cambodia who shared her story of how the self-terminating seeds from Monsanto have destabilized the countryside forcing many women to migrate into the cities for survival.  With profound sincerity and clarity she connected the role of multi-national corporations in the destruction of local communities, to the increasing exploitation of women who are pushed into the sex industry for survival.  The margin between survival and disaster becomes smaller and the urgency to create change becomes a matter of life or death.
The grassroots are at the forefront of this movement.  In the end of the day leaders from social movements in the Philippines, Korea, India, Thailand, Indonesia, Bangladesh, Japan, and Taiwan filled the stage to declare the formation of a new hemispheric alliance called Social Movements for an Alternative Asia (SMAA).   This alliance has been years in development, since the 2005 protests against the WTO in Hong Kong.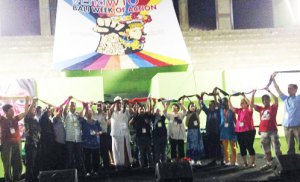 Social Movements for an Alternative Asia (SMAA) and Gerak Lawan declared the unity and action is what is needed at this moment.  We are living in a historic moment where struggles are confronting unchecked, unregulated free markets all across the globe.  The moment calls for us to build and stand side by side with the people of Asia. The moment call for us to engage participatory process in our communities where we get to decide who and what power really is.  It is up to us to create our own alternatives and to demonstrate that another world is possible.