Friends of Wild Salmon, May 12, 2011
500-Strong Crowd Rallies Outside Northern BC Municipalities Convention in Prince Rupert
"I will put my body in front of it." – Gerald Amos, councillor, Haisla Nation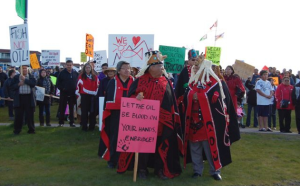 PRINCE RUPERT, BRITISH COLUMBIA—(Marketwire – May 13, 2011) – Over 500 First Nations and concerned citizens from across Northwest B.C. gathered in Prince Rupert last night for a rally against Enbridge and its plan for pipelines and oil tanker traffic on the province's North Coast.
The rally and march, which come less than 24 hours after major protests against Enbridge at its AGM in Calgary, coincided with the annual convention of the North Central Local Government Association (NCLGA), a regional organization made up of town councils from across northern B.C.
"I made a promise to our youth that if Enbridge gets to the point at which it is bringing in the bulldozers, I will put my body in front of it," said Gerald Amos, a councillor with the Haisla Nation. "How many of you will join me?" More than half the people in the crowd raised their hands.
Members of the Tsimshian, Kitkatla, Haisla, Haida, Heiltsuk, Saikuz, Nadleh Whut'en, and Wet'suwet'en First Nations travelled to Prince Rupert to join the rally, showing the unity of BC First Nations from along the proposed pipeline and oil tanker route.
"There is a better way. Do not let this dangerous experiment ruin our only hope," said a member of a delegation of Heiltsuk youth from Bella Bella.
Joy Thorkelson of the United Fishermen and Allied Workers Union noted that northern alliances have stopped three previous proposals to bring oil development to B.C.'s North Coast, and told the crowd that they would win against Enbridge too.
In addition to the First Nations leaders present, Member of Parliament, Nathan Cullen, MLAs Gary Coons and Robin Austin and Prince Rupert Mayor Jack Mussallem addressed the crowd.
The Enbridge Northern Gateway Pipeline would carry crude oil from the Alberta tar sands to Kitimat, and bring 225 crude oil tankers per year to B.C.'s northern inside waters.
Enbridge has invested heavily in influencing northern town councils. It is a platinum-level sponsor of the NCLGA convention, and has hired former Prince George mayor Colin Kinsley to lobby municipal leaders. Kevin Brown, a PR consultant from Prince George who is the Master of Ceremonies at the convention, also works for Enbridge doing municipal government relations.
"They can buy all the wine and cheese for municipal councillors they want, but they won't be able to buy the hearts and minds of the people of the Northwest," MP Nathan Cullen told the crowd. "Say no to Enbridge, and say yes to a future that is our future."
Led by First Nations drummers wearing traditional regalia and chanting, the crowd of hundreds took its message to the front door of Chances Casino, where NCLGA delegates were attending a banquet.
"With the diversity of people standing together, and the strength of opposition, it is clear that the people of this region will not let this project go ahead," said Jennifer Rice with Friends of Wild Salmon."
Download video footage (52Mb quicktime)
Contact:
Jennifer Rice
(250) 600-2455
Gerald Amos
(250) 632-1521