FOR IMMEDIATE RELEASE
January 17, 2013
At the end of December, Enbridge submitted significant changes to their application to the Joint Review Panel. For instance, they intend to greatly increase the size of their tank farm in Kitimat. Fortunately, Enbridge's submission did not go unnoticed by Josette Wier, an intervenor in the hearing process. She responded to the proposed changes by asking the JRP to request a review by Environment Canada.

This kind of action by Enbridge is as underhanded as making islands "disappear" from Douglas Channel! Please read the following press release and pass this information along.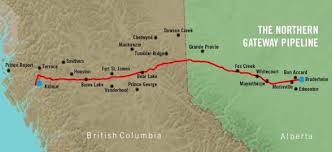 On the inconvenient date of December 28, 2012, Enbridge/Northern Gateway posted documents on the Joint Review Panel website introduced as "update information related to Pipeline Route Revision V".

As Josette Wier, an independent not funded intervenor in the hearing process, noted in her Notice of Motion #181 of January 17, 2013, there are numerous embedded proposed changes which have nothing to do with the route revision. She points out to the addition of a mysterious "drag resistant agent" carefully buried in a flow diagram nowhere to be seen in the text. Further, the tank farm in Kitimat is considerably increased from 11 to 16 tanks for the oil tanks with an almost doubled working capacity, while the condensate tanks capacity is increased by 29%.

"What does this have to do with a route revision?" she asks.

She submits in her Notice of Motion that this is an abuse of process when engineering and design question period ended in Prince George last November. Not withstanding the underhanded way of presenting new evidence, re-questioning on those issues doubles the amount of work and expenses for intervenors.

She asked the Joint Review Panel to order Northern Gateway to re-submit their proposed changes indicating clearly the ones unrelated to the route changes and describing them along with their rationale.

It is everyone's guess why there is a doubling of the tank farm capacity, but certainly points out to the larger pipeline shipping volumes the company had indicated would be a possible Phase II of the project. She says "It looks like Northern Gateway is quietly moving into the 850,000 barrels a day proposal, twice the volume the application has been cross-examined about. It is clearly an abuse of process".

–30–
For more information contact:
Josette Wier at 250 8478743 or by e-mail at josettecp@bulkley.net

http://nwcoastenergynews.com/2013/01/21/4128/intervenor-files-challenge-enbridge-tells-jrp-major-expansion-kitimat-gateway-terminal/