MEDIA ADVISORY
June 13, 2014
Contact: Aldo Seoane, aldoseoane@gmail.com, 605-319-8151
During Obama Visit, Tribes Will Push for Keystone XL Rejection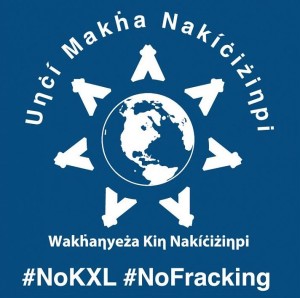 North Dakota — When President Obama and the First Lady visits the Standing Rock Sioux Tribe in Cannonball, N.D., today/June 13, tribal leaders will push him to reject Keystone XL and other tar sands pipelines that threaten their land, water, climate and treaty rights.
Tribal leaders intend to deliver the message directly to the President, while members the Indigenous Environmental Network supported by the Cowboy and Indian Alliance rally outside the meeting with a tipi, banners, and speakers about the risks of the pipeline. The Indigenous Environmental Network is an alliance of grassroots Indigenous peoples that focuses on economic and environmental justice. The Cowboy and Indian Alliance is a coalition of ranchers, farmers, and tribal members who hosted the Reject and Protect tipi encampment on the National Mall this past April and who planted the largest-ever crop art directly on the KXL path.
WHAT: #NoKXL Greeting Party for Pres. Obama and the First Lady in Indian Country
WHEN: Friday, June 13 at 11:00 a.m. (President could arrive anytime between noon-4pm)
WHERE: Cannon Ball Pit Stop (map), 7908 N Dakota 1806, Cannon Ball, ND 58528
Some of the children selected to sing a song to President Obama will wear shirts that say in Lakota "Stand up for Mother Earth, Stand up for our Children. #NoKXL #NoFracking."
One of the tribal leaders will deliver to the President a framed picture of the tipi that was painted and gifted in his honor to the Smithsonian Museum of the American Indian. The tipi symbolizes landowners and tribes hope that he continues to protect our land and water.
"Keystone XL is a death warrant for our people," said President Bryan Brewer of the Oglala Sioux Tribe, who helped lead the Reject and Protect effort. "President Obama must reject this pipeline and protect our sacred land and water. The United States needs to respect our treaty rights and say no to Keystone XL."
###
North Dakota NBC TV Station – Live Streaming
http://www.kfyrtv.com/category/284151/presidential-visit