City Council & Mainstream Media Continue to Ignore 'Racist Attack'
FLAGSTAFF, AZ — A Flagstaff Judge ruled today that Snowbowl ski area supporter Lindsay Lucas, must pay restitution for assaulting two Native Youth at a Flagstaff event called Dew Downtown on February 9, 2013.
"I'm pleased to report that the Judge was in our favor. It's been a very long year of constant continuances. We've all suffered emotionally as a family from this ordeal." sated Leslyn Begay, Diné (Navajo) mother of the two boys who were 11 & 13 when assaulted. "It's nerve wrecking walking into the judicial system not knowing what to expect. As a Diné and person of color you worry it may not go in your favor." said Ms. Begay.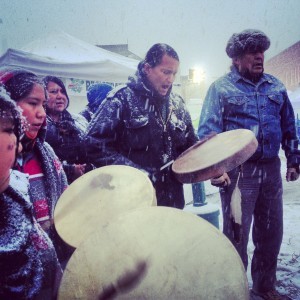 On February 9, 2013, more than 50 people had gathered in downtown Flagstaff for a peaceful Idle No More round dance in protest of Snowbowl ski area expansion and snowmaking with treated sewage on the holy San Francisco Peaks.
The protest coincided with Dew Downtown, a City of Flagstaff sponsored event in partnership with Arizona Snowbowl.
The group formed a circle and were closing the protest with the American Indian Movement song when the Snowbowl supporter rushed into the circle of protesters swinging her arms and tore through a large banner, pulling it from the people holding it and smashed it on the ground. She then pushed further into the circle and assaulted the two young Diné who were singing and drumming. After punching at them, she grabbed at the drums and tried to break them.
Police initially refused to charge the assaulter.
At the time Ms. Begay stated, "I feel if the roles were reversed it would have been a different outcome. If I attacked a caucasian child I would have gone straight to jail. This white female attacked us and knocked their drums out of their hands and may get away with it. It's racism. The cops refused my request to arrest her for assault. They gave her a disorderly conduct ticket but refused to charge her with assault or jail her for her actions against my kids." stated Ms. Begay.
"This attack and how it was handled by the cops underscores the racism that exists in Flagstaff." states Klee Benally, a longtime advocate for protection of the holy San Francisco Peaks, "The Flagstaff City Council is complicit in this attack, they created the conditions to permit this kind of attitude to fester in our community. This is called structural violence."
"This racist attack has not only been ignored by local mainstream media, City officials have turned a blind eye on this incident in order to promote winter tourism. It's not only irresponsible to ignore such an attack on Native youth, it makes racism the norm in Flagstaff." stated Mr. Benally.
"The boys and I will still stand up for our beliefs and continue to Protect Sacred Sites." said Ms. Begay after the court decision. "This will not deter us from this path. Thanks to all the folks who've been supportive and continue showing solidarity by boycotting Snowbowl and the Dew Downtown event."
More info: www.protectthepeaks.org, www.truesnow.org.
###
Link to previous story with photos: http://protectthepeaks.org/native-youth-drummers-attacked-by-snowbowl-supporter-at-city-of-flagstaff-ski-event/