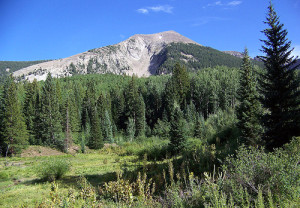 Conservation groups are gearing up to protect a forested roadless area and lynx habitat threatened with destruction by recent federal agency approvals of a coal mine expansion 10 miles east of Paonia, Colorado. The coal lease expansion paves the way for corporate giant Arch Coal to bulldoze 6.5 miles of road and 48 natural gas drilling pads through 1,700 acres—nearly three-square miles—of wild, roadless forest for the company's West Elk mine.
The Bureau of Land Management (BLM) approved the coal lease expansion last Thursday, a decision that followed an August 2012 Forest Service decision to "consent" to the destructive expansion on the Gunnison National Forest. The roadless area at stake includes forest of aspen and giant spruce, beaver lodges and meadows in an area used by hikers and hunters. The area provides habitat for lynx, a species listed as threatened under the Endangered Species Act, as well as elk, black bear and hawks.
In mid-December, four conservation groups—High Country Citizens' Alliance, WildEarth Guardians, Sierra Club and Rocky Mountain Wild—filed a notice of intent to sue the Forest Service under the Endangered Species Act for failing to ensure that the mine expansion would not harm lynx. The agency failed to consider that approving the lease expansion will permit Arch Coal to bulldoze additional roads through lynx habitat on other nearby national forest and private lands.
The groups are also considering filing a formal challenge to the BLM's Dec. 27 decision to approve the lease modifications. Such a challenge would have to be filed with the Department of the Interior's Board of Land Appeals in late January.
"The beautiful forests, ponds, and meadows of the Sunset Roadless Area are a natural wonderland that deserves protection, not destruction at the hands of one of the nation's dirtiest industries," said Ted Zukoski, an attorney with Earthjustice representing conservation groups who have challenged the mine expansion.
"BLM knows that its decision approving bulldozing through a roadless forest is opposed by many who value Colorado's natural beauty, and will likely result in an appeal," Zukoski added.
The BLM and Forest Service decisions to permit the mine expansion could turn the Sunset Roadless Area, which is right next to the scenic West Elk Wilderness, into an industrial zone of well pads and roads, with an average of 16 wells pads—and two miles of road—per square mile. A spaghetti-web of roads and pock-marks of well pads for the existing West Elk mine adjacent to the expansion area can be easily seen on Google maps. Watch this video on saving the Sunset Roadless Area and issues with methane venting wells:
Article Source:
Earthjustice