By Mary Annette Pember November 2, 2012
From Indian Country Today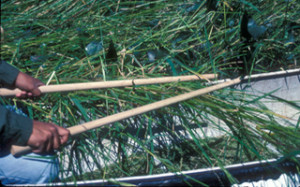 It's difficult to imagine a year without manoomin on the Bad River Reservation in northern Wisconsin. That wild rice—"food that grows on the water"—is so important to the people there that they call their annual summer pow wow the Bad River Manoomin celebration. But for only the second time in memory, the manoomin harvest was cancelled on the reservation this summer. Myron Burns, Bad River tribal member, reports that there was simply no rice to harvest. "There was nothing but empty hulls," he says. (The harvest was also cancelled in 2007 due to extremely low water levels in the rice sloughs, according to Erv Soulier, director of the Bad River Natural Resources Department. He notes, however, that 2008 was a "tremendous year. Hopefully we will see a repeat of that in 2013.")
Manoomin is central to Ojibwe stories and is believed to be the primary reason the tribe migrated west from the St. Lawrence Seaway area centuries ago. They traveled to the place where the food grows on the water, and settling around the Great Lakes. Manoomin is also a long-standing conduit of culture, language and community. The backbreaking harvest brings families together in an ancient labor that offers food for sustenance and spiritual activities. The harvest also provides some with a much-needed boost in income.
This year's manoomin crop throughout the region is nearly a total loss. The Fond du Lac Band of Lake Superior Chippewa near Duluth has also cancelled its harvest. According to an article in the Duluth News Tribune, better crops are reported farther west and north, where less rain fell during the crucial spring "floating-leaf" stage of the plant. "It almost brought tears to my eyes to see the sloughs like they are," says Burns.
Since so many factors affect the health of manoomin, it is difficult to pin down a single cause for this year's loss, but Peter David, wildlife biologist at Great Lakes Indian Fish & Wildlife Commission (GLIFWC), says climate change appears to be behind many of the factors. Manoomin is designed for a cold northern climate, he explains, while mild winters combined with high spring rainfall are associated with climate change. The 2011 winter was unusually mild, and heavy rains during the spring damaged the young rice plants during their formative floating-leaf stage. He suspects these conditions have also contributed to higher rates of disease for the crop. "It seems that we are having more bad years for rice."
Although climate change is thought to be one of several factors related to the decreasing manoomin harvests, invasive species, excessive use of motorized boats and run off from agricultural fields may also be harming the rice according to authorities from GLIFWC and Bad River Natural Resources Department.
In areas of the northern and western areas of the manoomin growing region were not as severely affected. David speculates that since manoomin favors colder temperatures, the growing zone may be shifting farther north in response to global warming. If the growing zone is, indeed, shifting farther north, it will have a big impact on the various bands of the Ojibwe tribe in the region. "Bad River people are wild rice people. The rice is definitely more than a foodstuff, it is a cultural centerpiece," David says.
Young and old, men and women are all involved with the harvesting, drying, winnowing, sifting and preparing the manoomin. Traditionally, after the rice was parched, youngsters would don new moccasins and "dance" in the barrel of rice in order to separate it from the hulls.
Burns has harvested manoomin for more than 60 years. "I grew up doing that. I danced that rice for my parents and grandparents. Manoomin is the reason we are here," he explains. Although the thought of a fall without the annual manoomin harvest is saddening, Bad River residents mostly agree with the decision to cancel this year's harvest, he says.
Responsible stewardship of the manoomin crop is reflective of the Ojibwe worldview of wise equitable use of natural resources. "We don't have to rice every year. The Creator didn't make that for us to have every single year," Burns says. "Hopefully people will begin to see that we can't just take and take from our rice beds. We have to put something back into them."
This year's crop condition brings home the fact that Indigenous Peoples are on the forefront of climate change notes Jim Zorn, director of GLIFWC. As an example he cites the decline of salmon for the Quinault Indian Nation in Washington. Glaciers that feed local rivers are retreating, threatening the survival of the salmon. "The state of manoomin gives a concrete example of the negative impact of climate change on Indigenous Peoples," he argues.
"I don't think that tribal members want to believe just how fragile our wetlands are. Things are taken for granted that they will always be there and that's just not the case," notes Bad River tribal member Annie Maday.
Burns hates to consider the thought of giving up the yearly harvest. "It's part of my tradition, " he states simply. "We've gotta get that rice back, no matter what it costs. You can't put a price on that."
For a complete explanation of the life cycle of rice, visit the Circle of Blue website: CircleOfBlue.org.