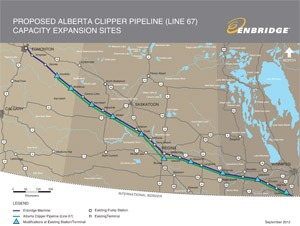 IEN News Update:
Enbridge's Line 67 tar sands pipeline has leaked an estimated 600 gallons near Viking, Minnesota. The Indigenous Environmental Network is en route to the spill site to gather more information. Stay tuned.
The U.S. Coast Guard National Response Center website reports the details of the incident:
"1044848","1044848″,"1044848″,"INCIDENT","23-APR-2013 17:09″,"THE CALLER REPORTED THAT A LEAK ON A PRESSURE TRANSMITTER RESULTED IN A RELEASE OF CRUDE OIL.","FIXED","EQUIPMENT FAILURE","23-APR-2013 15:45″,"18060 203TH ST NW","MN","VIKING","MARSHALL","ENBRIDGE ENERGY","SOIL","OIL: CRUDE"
It is reported the leak has stopped and Enbridge is working on cleanup operations now. The spill does not appear to have reached water.
Better known as the Alberta Clipper, the Line 67 pipeline carries heavy crude oil and tar sands bitumen from the Alberta tar sands region south from Hardisty to Superior, Wisconsin and refineries in the midwestern United States.
Enbridge is currently seeking a Presidential Permit from President Barack Obama to expand the capacity of the Alberta Clipper Line 67 where it crosses the international border. The pipeline currently transports approximately 450,000 bpd of crude oil from the Western Canadian Sedimentary Basin to the Midwestern U.S.