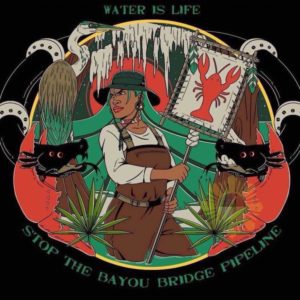 March 5, 2019 (RAYNE, LOUISIANA) – Energy Transfer Partners may have lied to its shareholders when it told investors the Bayou Bridge pipeline will be fully functional this month.
According to reports from Louisiana residents who frequent the Atchafalaya Basin, work on the project – which was first projected to be complete in 2017 – has been halted indefinitely due to high water levels.
Water protectors from L'eau Est La Vie Camp say Energy Transfer was aware of the delays prior to an investors' earnings call held on Feb. 20.
"Now looking at Bayou Bridge, we are nearing completion of construction on the 24-inch segment from Lake Charles to St. James, and expect commercial operations to begin in March," said Energy Transfer's chief financial officer Tom Long.
Lying to investors is securities fraud, a deceptive crime intended to entice shareholders to invest – or not sell — stock in a company by intentionally misrepresenting the financial risk to shareholder investments.
ETP initially promised investors the Bayou Bridge pipeline would be completed the last quarter of 2017. That deadline has been repeatedly changed and most recently moved to the first quarter of 2019. But with millions of gallons of flood water now on top of remaining construction sites, even that revised completion deadline is unlikely.
"ETP has a long history of violating the law and disregarding the health and safety of our communities, its own workers and the environment," said Cherri Foytlin, member of the Indigenous Women's Advisory Council of the L'eau Est La Vie Camp.
"For years Kelsey Warren and ETP's management has been getting rich off the backs of communities and workers who pay the price for their greed. I'm not at all surprised that ETP now thinks it can defraud its investors," said Foytlin.
"For over a year, the L'eau Est La Vie Camp and our global allies have slowed pipeline construction with strategic direct actions and work stoppages," says Foytlin.
The Bayou Bridge Pipeline, the tail end of the Dakota Access Pipeline, is a crude oil pipeline under construction from Lake Charles, LA to St. James, LA. It threatens the drinking water for millions of people in south Louisiana and construction has done irreparable harm to the sensitive ecosystems of the Atchafalaya Basin, the largest swamp in North America.
"Extremely high water in the basin, coupled with the opening of the Bonne Carre Spillway on Feb. 25th, means that ETP will be unable to continue construction on the west side of the Atchafalaya Basin, delaying the project indefinitely," said Foytlin.
Energy Transfer is also facing delays and safety issues across the nation. A Sunoco/Energy Transfer Partners natural gas pipeline exploded just days ago in Mexico, Missouri, sending an immense fireball into the air and threatening nearby homes. In Pennsylvania, the Department of Environmental Protection last week placed all requests for water and construction permits on indefinite hold, citing ETP's sloppy construction, numerous ignored spills and blatant disregard of the department's mandates.
L'eau Est La Vie Camp, a hub for pipeline resistance and peaceful opposition to the Bayou Bridge Pipeline has conducted a highly effective 17-month strategic direct action campaign which resulted in more than 100 days of construction delays.
Media Contact:
ANNE WHITE HAT (504) 722-5750
Resist@gmail.com
###END##
If you would like more information about local, regional, national and international Bayou Bridge pipeline resistance efforts please visit
www.NoBBP.org or contact us at
resist@nobbp.org.
In Solidarity,
L'eau Est La Vie Camp
https://www.facebook.com/LeauEstLaVie/
Apply for camp/ read more: http://nobbp.org/
Camp fund → bit.ly/nobbp
Amazon wishlist → tinyurl.com/nobbpwish
#NoBBP
#StopETP