Banking on Climate Change Report Reveals Banks Funded Climate Chaos with Trillions Since Paris Climate Agreement From the Wet'suwet'en to the Dirty Tar Sands Pipelines, Banks are Funding Indigenous Land Grabs for Fossil Fuel Companies
View or download the full report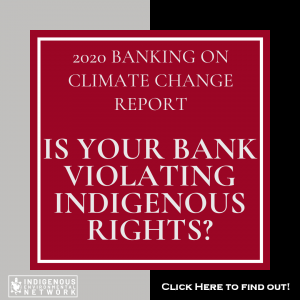 March 18, 2020 — Indigenous Environmental Network partnering with Rainforest Action Network, BankTrack, Oil Change International, Reclaim Finance, and the Sierra Club has released the Banking on Climate Change 2020 report, which has been endorsed by over 250 organizations from 45 countries around the world.
The latest version of the most comprehensive report on global banks' fossil fuel financing, Banking on Climate Change 2020 , reveals that 35 global banks have expanded the fossil fuel sector with more than $2.7 trillion in the four years since the 2015 Paris Climate Agreement. From fracking to LNGs to pipeline projects, the report shows how banks are funding Indigenous land grabs, the violation of Indigenous rights and eco-colonialism.
The report finds banks like JP Morgan Chase, Wells Fargo, Citi and Bank of America have funded TC Energy (formerly TransCanada) with $59 Billion for dirty tar sand projects that Indigenous communities have been fighting for over a decade, such as the Keystone XL and Coastal GasLink projects.  These four banks account for 30 % of all fossil fuel financing of the 35 major global banks funding climate change.
$62 Billion has been funneled to Enbridge for their massive dirty tar sands pipeline, Line 3.This project is a direct violation of Ojibwe treaty rights and is an illegal land grab funded by the banking industry.
JPMorgan Chase has provided $269 billion — over a quarter of a trillion dollars — in fossil fuel financing since the Paris Agreement. That figure not only places JPMorgan Chase as the #1 fossil fuel bank in the world, but shows that Chase exceeds second place Wells Fargo by a 36% margin. JPMorgan Chase's $269 billion also represents nearly 10% of the total fossil financing from all 35 banks studied in the report. Furthermore, JPMorgan Chase is the most aggressive funder in some of the most dangerous and harmful categories over the last four years — leading in fossil fuel expansion, Arctic oil and gas, offshore oil and gas, and fracking.
RBC has been backing fossil fuels at $141 billion over the same period. This makes RBC the worst fossil fuel banker in Canada, leading other Canadian banks by more than a third. In Europe Barclays is cited as the worst, outpacing other European banks by a 36% margin. Barclays poured $118 billion into fossil fuels from 2016-2019 — though BNP Paribas was Europe's biggest fossil fuel funder in 2019. Moreover, BNP Paribas has been the worst fossil fuel bank in France in the four years since the Paris Agreement, by a 56% margin.
Banking on Climate Change 2020  highlights the banks' unacceptably poor performance on human rights by highlighting bank financing of particular case study projects — from the Indigenous-opposed Line 3 pipeline in North America, to fracking in Argentina's Vaca Muerta basin, to a proposed coal mine expansion in Poland.
Banking on Climate Change 2020 once again shows that big banks are funding climate destruction and are directly responsible for climate chaos and the devastating effects Indigenous communities from the Arctic Circle to the Amazon forests are already experiencing as a result. Divesting from the banks who refuse to address climate change is a small step everyone can take to hold banks financing dirty energy accountable. On a larger level it's time for cities and tribal communities who do business with these banks to take the same steps.
Statements:
Tom Goldtooth, Executive Director of Indigenous Environmental Network:
"Many of the worst fossil fuel banks listed in this report are the same banks financing fossil fuel extraction and infrastructure that traditional Indigenous Peoples throughout the world have been struggling against for generations. From Chile to Canada, Indigenous Peoples have been defending against fossil fuel extraction in all its forms. In North America our defense of the Sacred has taken the form of defense against fossil fuel infrastructure such as pipelines, refineries, and transportation. Divestment from these banks have become part and parcel of our campaigns. We defend the Sacred, Mother Earth and the web of life in which humans have an equal part to play with all other forms of life. It is time that equity and balance with our Mother Earth be restored,
Bernadette Demientieff, Executive Director, Gwich'in Steering Committee:
"While small steps are being made to protect the Arctic, there is much more work to be done to protect our communities from the climate crises we are already experiencing. It's imperative to Mother Earth that banks move towards investing in clean energy, our culture and our ways of life  depends on it. "
Joye Braun, NO KXL Organizer, Indigenous Environmental Network
"These banks think they can circumvent tribal sovereignty, and our right to free prior informed consent by funding some of the biggest polluters and destroyers of Mother-Earth. They cannot deny they are have blood on their hands for each MMIW who is directly tied to the oil and gas industry. They have blood on their hands for every death, cancer patient and deadzone caused by these rapists of our land, water, and sky. It's time they are held accountable for putting us all on the brink of climate catastrophe."
Alison Kirsch, Climate and Energy Leader Researcher at Rainforest Action Network:
"Banking on Climate Change 2020 paints a deeply disturbing picture of how big banks, led by JPMorgan Chase, are driving us toward climate disaster. The data reveal that global banks are not only ramping up financing of fossil fuels overall, but are also increasing funding for the companies most responsible for fossil fuel expansion. This makes it crystal clear that banks are failing miserably when it comes to responding to the urgency of the climate crisis. As the toll of death and destruction from unprecedented floods, droughts, fires and storms grows, it is unconscionable and outrageous for banks to be approving new loans and raising capital for the companies that are pushing hardest to increase carbon emissions."
###