Athabasca Chipewyan First Nation present grievances to Shell Chairman, board and shareholders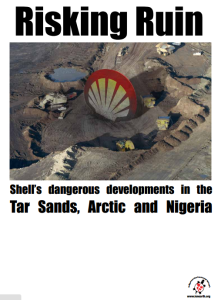 May 22, 2012/The Hague, Netherlands – Today, Eriel Deranger, spokesperson and member of the Athabasca Chipewyan First Nation (ACFN) addressed Shell executives and shareholders at Shell's Annual General Meeting (AGM) in the Hague, Netherlands highlighting the communities grievances with Shell's current and proposed tar sands projects in their traditional territory in northern Alberta.
Shell's Chairman was provided with a copy of the report "Risking Ruin: Shell's dangerous developments in the Tar Sands, Arctic and Nigeria" launched last week by ACFN in partnership with the Indigenous Environmental Network (IEN).  The report profiles Indigenous communities impacted by Shell's operations in Canada's Alberta Tar Sands, Alaska's Arctic Ocean, Ontario's Aamjiwnaang First Nation and Africa's Niger Delta arguing that the impacts of Shell's destructive activities outweigh the benefits and exposes the company to both reputational damage and political risk, including litigation.
ACFN traveled with an Indigenous delegation from Canada and Alaska, coordinated by the UK Tar Sands Network and IEN, to attend Shell's AGM. Indigenous representative presented to Shell's Chairman and Board about the human and ecological rights violations the company's operations have brought to their respective communities.
"Shell has failed to address our concerns in Canada's tar sands by not meeting environmental standards, past agreements and refusing to address their impacts to our constitutionally protected treaty rights," stated Deranger. "Shell's current projects are contributing to the destruction of our traditional territory including vital watersheds and eco-systems.  Now they propose to expand projects further degrading our lands and impairing our ability to practice our constitutionally protected rights to hunt, fish, trap and gather in the region."
Shell executives refused to address the concerns brought forward by Deranger, stating that ACFN is nothing more then anomaly among First Nation communities in Alberta's tar sands.  Shell has been operating in Alberta's tar sands since 2003 and now accounts for approximately 20% of overall operations in the region.  ACFN has numerous grievances with the oil giant with disputes arising around permits, leases, applications, and unmet agreements.  ACFN made headlines last year suing the oil giant for failure to meet past agreements regarding existing tar sands projects within ACFN traditional territory.
Shell's plans to expand current projects include a new open pit tar sands mine in previously untouched regions of Athabasca Delta, more then doubling their production producing over 600,000 bpd. Chief Allan Adam of the Athabasca Chipewyan First Nation stated, "I sincerely hope that Shell executives and shareholders listen to our spokesperson. Our community is drawing the line because we've had enough.  We have full intention of opposing all of Shell's future tar sands projects in the region until our past grievances are met and there is full protection of our watersheds, eco-systems and our treaty rights in the region." Click here to read the report; Risking Ruin.
-30-
Media Contacts:
Chief Allan Adam in Canada 780-713-1220
Eriel Deranger in the Netherlands  +31 644941380