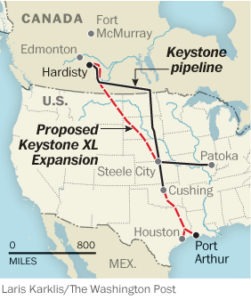 The State Department is close to completing a draft of an environmental review that will help determine whether President Obama approves the Keystone XL pipeline, as environmental and energy industry groups sought to bolster their position with new information.
Pipeline opponent Oil Change International released a report Thursday saying that estimates of greenhouse gas emissions from oil sands development have failed to include the full emissions from a byproduct of refining oil sands crude — a coallike substance known as petroleum coke.
At the same time, the Consumer Energy Alliance, a group funded partly by oil and gas firms, issued an economic analysis that said the 1,700-mile pipeline connecting Alberta's oil sands to Texas refineries would generate $580.2 million in direct spending over two years in Nebraska.
And 10 Republican governors and Saskatchewan's premier sent a letter to Obama that urged him to approve the pipeline, which would ship 700,000 barrels of crude daily from Canada to the United States.
The State Department's draft Environmental Impact Statement, which could come in the next few weeks, will be open to public comment before it is finalized.
Obama initially rejected the project a year ago on the grounds that his administration needed more time to review its effect on the ecologically sensitive Sand Hills region in Nebraska. The pipeline's builder, TransCanada, revised the route and moved it farther east of Nebraska's Ogalalla Aquifer, a key water supply. Gov. Dave Heineman (R) is expected to endorse the project.
But environmentalists still question the climate impact of extracting bitumen, a viscous oil that comes from formations of sand, clay and water. The process produces more carbon emissions as well as petroleum coke, or petcoke, a byproduct that can be burned like coal and is sometimes sold at low prices to power plants or industries such as aluminum and steel.
The Oil Change International report said that burning petcoke emits 5 percent to 10 percent more carbon dioxide per unit of energy than coal, so petroleum coke use would raise estimates of greenhouse gas emissions from oil sands development 13 percent above earlier State Department estimates.
The State Department analyzed this issue in its initial environmental review and concluded that burning petcoke could increase emissions by up to 14 percent, but added that, since in many instances this combustion would be replacing coal, the emissions difference would be "much smaller."
TransCanada said that "there is nothing new" in Oil Change International's report. The company said crude derived from oil sands was no worse than heavy oils from California, Mexico or Venezuela, and moving that oil by pipeline would be more energy- efficient than transporting it by rail or truck.
Weighing the project's carbon impact poses a challenge for Sen. John F. Kerry (D-Mass.), Obama's nominee to become secretary of state. Kerry has devoted his career to fighting global warming. Regarding Keystone XL, he told the Hill newspaper in October that "there's a lot at stake here, and I'll do my best to leave no question unanswered, including every possible economic and environmental consideration, before a final decision is made."
Kerry has shown a detailed grasp of issues surrounding the pipeline application during his initial meetings with State Department officials, according to individuals familiar with the sessions who asked not to be identified because Kerry has yet to be confirmed.
Officials are currently analyzing how several factors, including increased U.S. oil production and greater vehicle efficiency, affect the market analysis they prepared for their initial assessment of the project.
State Department spokeswoman Nicole Thompson said that the draft assessment will be ready "in the near future" and that the department is conducting the permit review "in a rigorous, transparent and efficient manner, using existing analysis as appropriate."
Supporters of the pipeline, such as Jack Gerard, president of the American Petroleum Institute, say it will produce jobs and enhance the nation's energy supply.
"It once again boils down to a political decision by the White House: Will they follow what's in the best interest of the country, or will they follow other political pressures?" Gerard asked.
The Consumer Energy Alliance analysis showing the benefits to Nebraska says the project would produce 1,343 jobs for two years in sectors that include pipeline and power line construction. It would inject more than half a billion into the economy during that time as TransCanada employed workers, bought land, compensated farmers for damaged crops, rented hotel rooms and installed pump stations and terminals, the study says. It also assumes the state will collect income tax not only from Nebraskans working in the state on the pipeline but also those Nebraskans working on portions of the project in Montana and South Dakota.
Harvard University environmental economist Robert Stavins wrote in an e-mail: "The general finding that there are financial benefits to residents of the state of Nebraska of construction of the pipeline is not surprising. The key question is whether the construction of the pipeline is in the long-term interest of the country as a whole, when all factors — financial and other impacts, including environmental ones — are considered."
By Juliet Eilperin and Steven Mufson,
© The Washington Post Company – Original Article Link  Published: January 17