By Robert Redford, Reader Supported News
04 January 13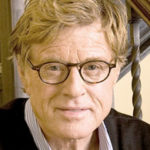 The wake up call that Hurricane Sandy gave us was but one of many just in the last year. We can see that climate change is happening all around the country after the wildfires, droughts, floods and violent storms of 2012. So when President Obama said it was time to deal with global warming in his victory speech, that made perfect sense.
Why then would one of the first decisions after the election be to ignore the climate impacts of one of the dirtiest energy projects out there? That doesn't make any sense.
The Keystone XL tar sands pipeline is winding its way through a State Department environmental review process. The State Department messed up last time around. They didn't include climate and a lot of other concerns that people along the pipeline path have. After the President rejected this pipeline earlier this year and TransCanada reapplied for a presidential permit for the northern section, the State Department got another chance to get it right.
It begs the question then, why does it look like they are going to get it wrong?
The Keystone XL tar sands pipeline is a disaster in the making. It will cause expansion of the expensive and dirty tar sands oil excavation up in Canada's Boreal forest. It threatens our own farms, and waters throughout our heartland. And it is going to make climate change worse as more tarry gunk is dug up, turned into gasoline and diesel and burned in cars and trucks.
All of this is for a pipeline that is meant to export tar sand oil overseas from America's Gulf Coast. Our heartland, aquifers and climate are meant to sustain us. Instead the Keystone XL tar sands pipeline means that we take all the risks – from pipeline leaks and blows to the aftermath of toxic pools of wastewater — and Big Oil reaps all the benefits. Canadians know better – they haven't let new tar sands pipeline be built yet to either of their own coasts. In fact, the proposed Northern Gateway tar sands pipeline to the west coast is considered dead by many.
It only makes sense to get the environmental review right. And that means taking a hard look at the climate impacts.
This is a time for climate leadership. So, instead of a shoddy Keystone XL environmental review, the first major climate action for this Administration's second term should be to set limits on climate change pollution from power plants. That is the kind of action that makes sense.
And then it will make sense to reject this dirty energy project. With extreme weather taking its toll on communities all over America, we can't afford another major dirty energy project such as the Keystone XL tar sands pipeline.