Date and Time: Wednesday 11 May 2016 from 1:15 pm – 2:30 pm – Location: Conference Room D, UNHQ building

As part of the 15th Permanent Forum on Indigenous Issues, Land is Life and our allies will alert the UN to denounce the threat to human rights
in Indigenous territories due to the oil contracts signed in January between the Ecuadorian government and Chinese oil corporation Andes Petroleum.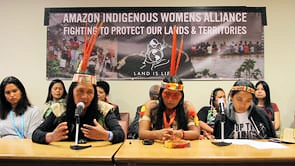 In a letter to the Permanente Representative of China to United Nations, Liu Jieyi, Land is Life allies Gloria Ushigua (President of Ashiñwaka) and Alicia Cahuiya (Vice-president of NAWE) urge China's ambassador to recommend to the state-run Chinese company Andes Petroleum not to enter their ancestral territories, as the communities have not been properly consulted nor given their formal agreement.
The two Indigenous leaders will also present evidences of the multiple official Indigenous declarations that testify to the rejection of extractive industries like oil exploitation in their territories.
Land is Life is organizing an event to raise awareness on the current situation of the Amazonian Women against extractive industries in Ecuador that will be led by Gloria Ushigua and Alicia Cahuiya with the support of Indigenous leaders from Asia, Africa and North America.