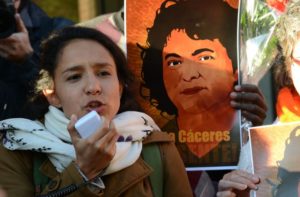 On Friday, June 3oth, at approximately 2:36 pm, Bertha Zúniga and a friend were on their way back home after visiting in the community of Cancire of the Municipality of Santiago Puringla in the department of La Paz, when they were attacked by four men wielding machetes and throwing rocks at them while they were in their vehicle. As reported, the driver of their vehicle was able to avoid a deadly accident with defensive driving skills and evading future incident by taking a detour. These kinds of attacks are all too frequent and many times deadly. Bertha's mother Berta Caceres was murdered last year as a direct result of her work to bring justice to the Indigenous Peoples of Honduras. Berta Isabel Cáceres Flores was an environmental activist, indigenous leader of her people, and co-founder and coordinator of the Council of Popular and Indigenous Organizations of Honduras (COPINH).
We demand that the authorities investigate and punish these aggressions. It is the responsibility of the State of Honduras to protect the physical integrity of COPINH members and to take all necessary measures to ensure that the organization carries out its work in defense of the rights of the Lencas communities and their territories.
We call on the international community to be vigilant and demand the protection of the members of COPINH to the Honduran authorities.
Show your support for Berta:
Share Our videos:
Bertha Zúniga:
Why Congress should support the Berta Cáceres Human Rights in Honduras Act from Sam Vinal- Mutual Aid Media on Vimeo.
Kandi Mossett, Indigenous Climate and Energy Campaign Organizer:

Why is it important to support the Berta Cáceres Act? from melissa cox on Vimeo.
Josh Fox
Being an environmental leader in Honduras should not be a death sentence. #JusticeforBerta or #HR1299 support the #BertaCáceresAct ! pic.twitter.com/bTqHEtOELo

— Josh Fox (@joshfoxfilm) July 1, 2017
You on Twitter:
Do a video or take a picture of yourself or group with a sign in support of Berta upload on your twitter account tag us @ienearth and use hastags: #JusticeforBerta #HR1299 #BertaCáceresAct
You on Facebook:
Do your own video in support of #JusticeforBerta and send a link to: media@ienearth.org and we'll share it on our Facebook timeline.
Share Bertha, Kandi, and Josh Fox's videos on your timelines! Always use #JusticeforBerta #HR1299 #BertaCáceresAct when you do