FOR IMMEDIATE RELEASE: March 15, 2016
Contact:
Mariah Urueta, Food & Water Watch, (248) 773-1210
Joanne Cromley, Straits Area Concerned Citizens for Peace, Justice & the Environment, (231) 238-4786
Kelly Thayer, FLOW (For Love of Water), (231) 352-8122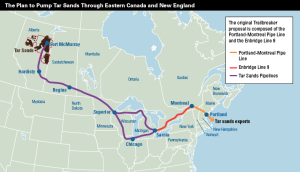 Charlevoix Township, Mich. – On Monday night, Charlevoix Township became the 25th community in Michigan to pass a resolution calling on Governor Rick Snyder and Attorney General Bill Schuette to stop the oil flowing through Enbridge's 63-year-old Line 5 pipelines in the Straits of Mackinac.
Four Indian tribes in Michigan, and the Chippewa Ottawa Resource Authority that manages their fishery, also support stopping the nearly 23 million gallons of oil flowing through Line 5 in the Mackinac Straits, which University of Michigan experts have called the "worst possible place for an oil spill in the Great Lakes."
Dozens of organizations, hundreds of businesses, and thousands of individuals also support efforts by the Oil & Water Don't Mix campaign to prevent a catastrophic oil spill in the Great Lakes, which drives the Pure Michigan economy and provides drinking water to millions of people. Enbridge has a history of oil spills from Line 5, which runs Superior, Wisc., to Sarnia, Ont., and is responsible for 2010's million-gallon oil spill disaster into the Kalamazoo River.
In response to the 25th-community milestone, partners in the Oil & Water Don't Mix Campaign issued the following statements:
"The passage of the resolution by Charlevoix Township is historic: Since the beginning of November, a total of 25 communities and four tribes  across the State of Michigan have taken action and called on Governor Snyder and Attorney General Schuette to stop the flow of oil in the Straits of Mackinac," said Mariah Urueta, Michigan Organizer for Food & Water Watch, noting that the resolution has passed easily in virtually every place it has been introduced. "In addition, citizens are working with many more local governments to pass resolutions that support shutting down Line 5. To anyone listening, the message is clear: Michiganders don't want this pipeline to continue operating for another day. It poses too great a risk to the Great Lakes, our communities, and our economy. It's time to shut down Line 5."
"We have attended countless community meetings in towns all across northern Michigan," said Joanne Cromley of Straits Area Concerned Citizens for Peace, Justice and the Environment. "There is overwhelming support everywhere we go for stopping the flow of oil in Line 5 immediately.  This is not a partisan issue. Lawmakers on both sides of the aisle are concerned about the threats posed by this 63-year-old pipeline owned by Enbridge, and we'll keep working with local governments on resolutions until the governor or attorney general does right by the people of Michigan and shuts down Line 5."
"It's been eight months since Attorney General Schuette said that Line 5's 'days are numbered,' but the Great Lakes still remain at risk of a disastrous oil spill," said Kelly Thayer, a campaigner for FLOW (For Love of Water). "Communities have spoken out because they know that these dented, cracked, and rusted old pipelines won't last forever. Today we again call on the governor and attorney general to take quick action and use their authority to shut down Line 5."
Visit www.oilandwaterdontmix.org/supporters for a list of supporters among communities, tribes, business, and organizations.
###