In the Beginning! Joye Braun was one of the first organizers of this monumentally successful Indigenous-Led Action against the Dakota Access Pipeline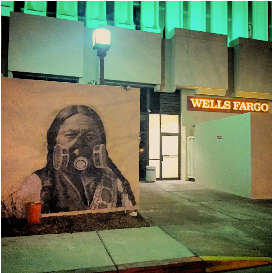 Dallas Goldtooth, Keep it in the Ground Organizer, Indigenous Environmental Network said: "As a movement to stop this dirty Bakken oil pipeline, we are demonstrating the inherent power of organized communities and mobilized citizens. We are showing Big Oil and government leaders that we know the power of our capital, and as such we collectively choose to invest in life and water, not death and oil. As first peoples of the land and in defense of our Indigenous rights, we will continue to rise, resist, self-determine and divest until the Dakota Access pipeline is nothing but the defeated aspirations of a Energy Transfer Partners' dream."
read more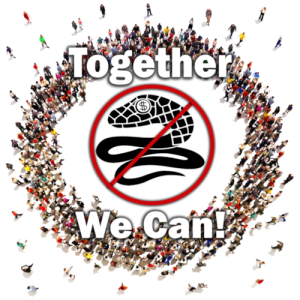 Exercise your moral authority through your investments and the banks you use. Learn more on who the entities are who are pouring billions into the fossil fuel industry and contributing to a climate-unstable world, changing your bank, and more.
Ways to Support the Camp of the Sacred Stones
Wood: ​The sacred fire must be kept burning until it is guaranteed the water is protected for future generations.  One of our greatest needs for the winter will be wood.  It warms our lodges, cooks our food, heats the stones for our sweats.
Tipis, winter liners, and poles – ​Yurts or other winter worthy structures: ​Warm lodges will be essential to the Water Protectors health and well being.  The Camp is scrambling everyday to winterize and prepare for the cold weather.  Help with a warm hearth is still needed.
 Blankets, winter sleeping bags, sleeping mats, cots: ​There is a reason a warm wool Pendleton or Hudson Bay Co. blanket is a highly valued traditional gift, warm blankets are essential to survival in North Dakota winters.  We still need more warm sleeping gear.
 Insulated boots and other cold weather clothing
 Insulated gloves, work gloves:  Many Water Protectors arrived in camp during the warm summer months, with gear for warm weather.  We had hoped this would be all resolved by now, but the drive of greed is strong.  Now we must gear up for winter, all manner of winter clothing in a variety of sized is still required.
 Bulk Food Supplies:  Generous support has poured a healthy volume of food for the Camp over the summer.  Those are dwindling or expiring.  A wide range of foods will need to be stockpiled for the winter.  More supplies are required to survive a this winter.
 Heating Stoves for tents
Propane:  Although we endeavor to minimize the carbon footprint of the Camp through utilizing solar and wind generators, and a recycling program, we also must be mindful of our impact on the local tree population.  Therefore we ration the use of wood for fires and use propane in the kitchens.  The kitchens provide three meals everyday for many in Camp.
 Hay and Hay Bales:  Horses are a central part of Lakota/Dakota/Nakota life and culture.  Horses live in the camp in the traditional way, close to the people.  Much hay must be stored to properly care for our relatives, the horses.​​
Belcourt Hardware and Lumber (Located on Turtle Mountain Reservation – Belcourt, ND) is willing to take orders over the phone and deliver supplies to camp. They have everything from gloves, shovels, propane tanks, building supplies, wood, tents, coffee, chain saws, ETC. They can get anything you need for camp and they support Standing Rock and the Water Protectors. They would like to bring a load down on SATURDAY.
Please call Lenny or Joey at 701-477-0560 today to place your orders. Thank you Belcourt Hardware and Lumber!
Learn more, updated supplies / needs, donation links, etc.:
Stand With Standing Rock: Official Site of the Standing Rock Tribe
In 2014, President Obama visited the Standing Rock Sioux Nation as an official visit to "Indian Country", stopping at the small community of Cannon Ball, ND. While there he visited with Native youth and promised to help them in their time of need. 2 years later, this same community finds itself in the middle of a battle against the multi-billion dollar project called the Dakota Access pipeline. Some of the Native youth who got to meet the President, and their friends, are n
ow asking for him to keep his promise. Please support the campaign against

#

DakotaAccess

pipeline! Please support

#

NativeYouth

!
Ladonna Bravebull Allard
Ladonna Bravebull Allard, the Section 106 Tribal Historic Preservation Officer for the standing Rock Sioux Tribe, owns the northernmost land of the Standing Rock Reservation. The northern border is the Cannon Ball River. The eastern border is the Missouri River. From her land, you can see the pipeline corridor. This is the land she grew up on, and can tell the history of this river back 2,000 years. Dakota Access, the USACE, and SHPO all failed to properly consult her local knowledge or take her concerns into consideration in the routing of this pipeline.