Click here to learn more: find out how you can join them – support them – Divest and Defund DAPL – and spread the word of this historic coming together of many nations to protect our precious water for the next Seven Generations.
In North Dakota, Indigenous leaders from the Standing Rock Nation are fighting the Dakota Access Pipeline (DAPL). This pipeline will carry over a half a million barrels of oil per day from the Bakken Oil Shale Fields. The route the pipeline will take, if approved, will be laid under multiple bodies of water, to include the Missouri River located a half mile upstream from the Standing Rock reservation. This river not only supplies drinking water to the tribe but is a major tributary to the Mississippi River where more than 10 million people depend on it for both human consumption and irrigation for the nation's "bread basket." This pipeline when it fails – and it will fail – will destroy land and water with little, if any, chance of remediation / cleanup. We only need to look at the devastating Yellowstone River, Kalamazoo, and many others. Protesters have continued to resist construction peacefully, despite surveillance and intimidation from the state.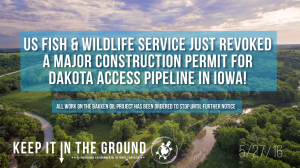 Des Moines, IA – The United States Fish and Wildlife Service has revoked its approval of a construction permit for the Dakota Access pipeline through the Big Sioux River Wildlife Management Area in Northeast Iowa. This permit is called the Sovereign Lands Construction Permit and was revoked because a significant Native American archaeological site was discovered along its proposed path. Due to the permit revocation, the Iowa Department of Natural Resources has ordered that Dakota Access LLC stop all construction work for its Bakken oil pipeline until a survey of the area is conducted and consultation with local agencies and tribes is completed.
read more
Indigenous Rising
Content from our companion website:
Mislabeled fish is flooding the marketplace and Americans may be swallowing it hook, line and sinker, according to a new study by an environmental activist group. A look at seafood sales across the country by ocean conservation group Oceana found that roughly one...
read more
Caleen Sisk, Chief and Spiritual Leader of the Winnemem Wintu Tribe, said the Tribe strongly opposes the tentative approval of genetically engineered salmon by the Food and Drug Administration (FDA). "Salmon is in our traditional stories, songs and dances," said Sisk....
read more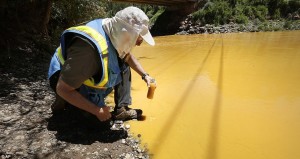 "DENVER (AP) — A million-gallon mine waste spill that sent a plume of orange-ish muck down a river in southwest Colorado on Thursday was caused by a federal mine cleanup crew.
The U.S. Environmental Protection Agency said that a cleanup team was working with heavy equipment Wednesday to secure an entrance to the Gold King Mine. Workers instead released an estimated 1 million gallons of mine waste into Cement Creek.
"The project was intended to pump and treat the water and reduce metals pollution flowing out of the mine," agency spokesman Rich Mylott said in a statement.
The creek runs into the Animas River, which then flows into the San Juan River in New Mexico and joins the Colorado River in Utah."
On August 8, 2015 Ft. Berthold Protectors of Water and Earth Rights along with Indigenous Environmental Network hosted our first annual 2015 Water Blessing and Healing Walk. We prayed for all the sacred waters of the Earth.
read more
FOR IMMEDIATE RELEASE First Nation concerned Nexen oil pipeline spill highlights dangers of poorly regulated industry and violations of Treaty July 17, 2015 – Fort McMurray, AB – On Wednesday of this week Fort McMurray's oil sands hit a new milestone, it is now home...
read more
Photos and media interviews available Suzanne Dhaliwal +447772694327 @notarsands suzanne@no-tar-sands.org The delegation will attend the Shell Annual General Meeting at the Hague on Tuesday, May 19th, 9:00am GMT at the Circustheater, Circusstraat 4, 2586 CW The Hague....
read more

No Results Found
The page you requested could not be found. Try refining your search, or use the navigation above to locate the post.
We, the undersigned [and aforementioned] Indigenous peoples organizations, environmental justice and environmental non-governmental organizations, urge you not to include forest carbon offsets known as REDD (Reducing Emissions from Deforestation and forest...
read more
May 7th, 2013 Dear California REDD Offsets Working Group; Dear People of the State of California; Dear Honorable Jerry Brown, Governor of California; Dear Mary Nichols, Chairman, California Air Resources Board; Dear Ashley Conrad-Saydah, Assistant Secretary for...
read more
Citizens of the World, Please sign this petition to Stop California REDD, which is the model for doing REDD throughout the world. Make history by rejecting this market-based, land grabbing false solution to climate change which is bad for the planet, bad for...
read more
By Chris Lang, 3rd April 2013 During the World Social Forum, a group of African organisations and individuals took part in the launch of a "No REDD in Africa Network". Given the problems with the REDD mechanism, REDD-Monitor welcomes critical debate about REDD, but...
read more
No REDD Network Born FOR IMMEDIATE RELEASE: March 29, 2013 Outraged by the rampant land grabs and neocolonialism of REDD (Reducing Emissions from Deforestation and forest degradation), Africans at the World Social Forum in Tunisia took the historic decision to launch...
read more
© Indigenous Environmental Network ~ All Rights Reserved ~ 2015-16
Other IEN Campaign Websites: