Past Campaigns &
Direct Actions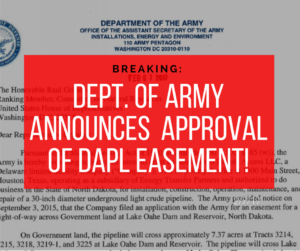 Cannon Ball, ND — Today the Army Corps of Engineers notified Congress that it will grant an easement for the Dakota Access Pipeline in the next 24 hours, trampling a planned environmental and tribal consultation review process.
Statement from Tom Goldtooth, Executive Director of the Indigenous Environmental Network:
"Donald Trump will not build his Dakota Access Pipeline without a fight. The granting of an easement, without any environmental review or tribal consultation, is not the end of this fight — it is the new beginning. Expect mass resistance far beyond what Trump has seen so far.
The Department of Army also stated that it will waive the procedure to wait 14 days until the official easement can be granted. The Department plans to grant the easement within the next 24 hours.
© Indigenous Environmental Network ~ All Rights Reserved ~ 2017-18
Other IEN Campaign Websites: