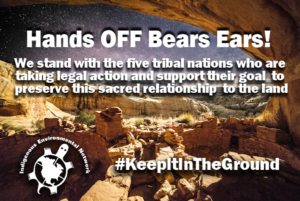 Salt Lake City, UT – On Monday, December 1st, during a brief visit to Utah, President Trump announced plans to shrink the Bears Ears and the Grand Staircase Escalante National Monuments in Utah. This is the largest removal of federal land protection in the nation's history. In 2016, President Obama designated the Bears Ears region as a national monument, after five local tribes led a decade long campaigns to ensure the protection of these ancestral lands.
Shortly after Trump's announcement, an inter-tribal coalition, comprised of the Ute Mountain Tribe, the Ute Indian Tribe, the Navajo Nation, the Hopi and the Zuni, filed the first lawsuit against the executive order on the basis that President Trump does not have the legal authority to remove the national monument protections.
Within the Bears Ears National Monument there are over 100,000 sacred sites and this region continues to provide cultural knowledge and value to the surrounding tribes. Indigenous Peoples still need these lands for ceremony, to harvest plants medicines, and to ensure that their traditions thrive. Secretary Ryan Zinke, Senator Orrin Hatch, and President Trump did not meet with tribal representatives to hear their arguments for maintaining the national monument, nor did they receive consent from these tribes to remove the protections. This is a direct violation of the nation to nation relationship that the federal government should maintain with sovereign tribal nations.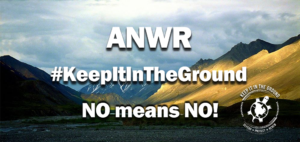 Bemidji, MN – Before dawn on Saturday morning, December 2nd, the U.S. Senate passed a monumental tax overhaul with no Democratic support that overwhelmingly benefits corporations and the top 1%. The bill, written by a small panel of Republicans, behind closed doors was rushed to a vote, bypassing regular order that would have included hearings and committee meetings with both parties participating. In fact, the bill has ignited an outcry from Democrats, calling this process of the bill, "Washington at it's worst".
While the focus of criticism is centered on how the bill will not benefit a majority of taxpayers in the long term, there are immediate and potentially dire impacts within this bill for Indigenous Peoples that is being overlooked in the media. Two provisions inserted by Sen. Lisa Murkowski (R-Alaska) direct Sec. Zinke to approve at least two lease sales for drilling. Each would consist of no fewer than 400,000 acres and 2,000 acres (of the 800,000 total acres), known as 1002 Area, set aside for wells and support facilities within ANWR's 1.5 million-acre coastal plain.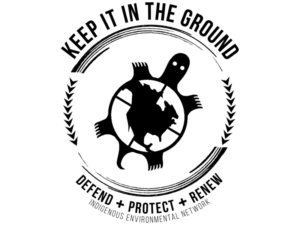 Lincoln, NE – Today, November 20, 2017, the Nebraska Public Service Commission (NPSC) announced their approval of the permit for the Keystone XL (KXL) Pipeline to cross through the state. Nebraska was one of the last strongholds in the fight to prevent KXL from being completed. This announcement comes just days after the KXL pipeline leaked 210,000 gallons of oil in South Dakota and after the United Nations Framework Convention on Climate Change COP23, where Indigenous Peoples from across the world have spent two weeks advocating to stop new oil development and to keep fossil fuels in the ground. In addition, today, November 20th, marks the anniversary of the night the US National Guard and North Dakota Law Enforcement used water cannons on peaceful protesters at Standing Rock in subzero temperatures to protect the interests of Energy Transfer Partners.
Even with this decision, TransCanada has an uphill battle moving forward. The NPSC rejected TransCanada's preferred route, so TransCanada will have to go through a new planning process for new pumping stations, acquire new easements from landowners, and there's an opportunity for pipeline fighters to demand a new environmental impact statement for the new route segments.
Who We Are
We are a growing coalition of communities and organizations that care deeply about our rights to clean water, clean air, a stable climate, and a democratic society.
We believe that landowners and indigenous tribes have the right to determine what happens to their land. But Energy Transfer Partners (ETP), a giant oil company based in Texas, has been consistently violating those rights in their drive to build new oil and gas pipelines. And along the way, communities have suffered.
We are a growing coalition of groups that represent millions of people including many communities directly impacted by ETP's pipeline projects: 
350 Louisiana, Alamosa Riverkeeper, Atchafalaya Basinkeeper, Bold Louisiana, Cahaba Riverkeeper, Coastal Carolina Riverwatch, Crystal Coast Waterkeeper, Earthworks, Environmental Stewardship, Hurricane Creekkeeper, Indigenous Environmental Network, Milwaukee Riverkeeper, NoDAPL Global Solidarity, North Louisiana for Earth & Water Justice, Oil Change International, Rainforest Action Network, San Francisco Baykeeper, Sierra Club, Waccamaw Riverkeeper, Waterkeeper Alliance, Waterkeepers Chesapeake, Winyah Rivers Foundation… and many more.
Sign up NOW to host or join a #StopETP action in your community!
The Impact
When Energy Transfer Partners builds their pipelines, compressor stations, and other projects, this is what happens:
Water is polluted. ETP and their subsidiaries are responsible for a record 317 pipeline spills in the last 11 years. [1][2][3]
Indigenous sovereignty is violated. ETP destroys sacred sites and does not pursue consent from tribal governments to build new pipelines. [4]
Landowners rights are violated. ETP pursues eminent domain for private profit, forcing landowners to sign over easements. [5] Landowners are consistently lied to about risks, and often do not receive the compensation they are promised. [6]
Air is polluted. ETP's leaky pipelines rely on compressor stations and processing plants that emit chemicals known to be harmful to humans, animals and the climate.
The climate is harmed. ETP's pipeline projects are mostly intended to deliver oil and gas to foreign markets. The climate loses, and nobody gains except ETP. [7]
That's why we must rise up to #StopETP. Click HERE to join an action on September 9th!
What We're Doing About It
We are building a movement to #StopETP and protect our communities. Everywhere ETP shows up, we will be there to say NO.
Sometimes that means filing lawsuits and encouraging decision makers to say no to ETP's projects. Sometimes that means exposing ETP's history of environmental and human rights violations and educating our communities about the dangers of this company. And sometimes it means setting up camp in the pipeline's path.
Our health, our water, our air, our climate, and our democracy demand it.
Communities are organizing actions across the country to challenge all of ETP's dangerous and destructive pipeline projects. Visit StopETP.org to host or find an action near you!
What We Want
We demand that Energy Transfer Partners' proposed and existing operations meet the following social and environmental criteria:
Water – Cause no water pollution;
Public Health – Cause no health-harming air pollution;
Indigenous Rights – Recognize and respect Indigenous sovereignty, including the right to say "No";
Community Rights – Respect the rights of residents and property owners to protect themselves from harm;
Climate – Meet the climate test [8] to ensure the world does not exceed 1.5ºC temperature rise;
Accountability – Pay and commit to clean up existing water and air pollution, and to compensate those already harmed.
SHARE the MEMEs
Right Click on the image and then Save As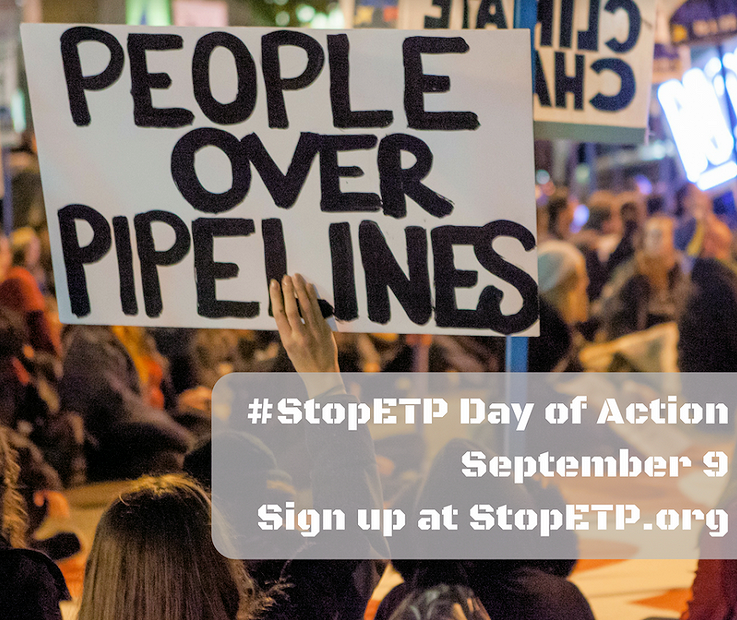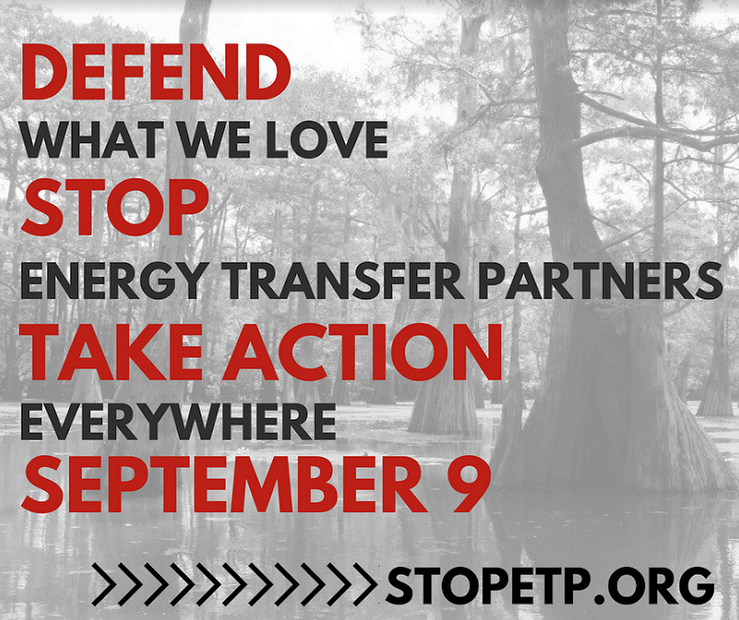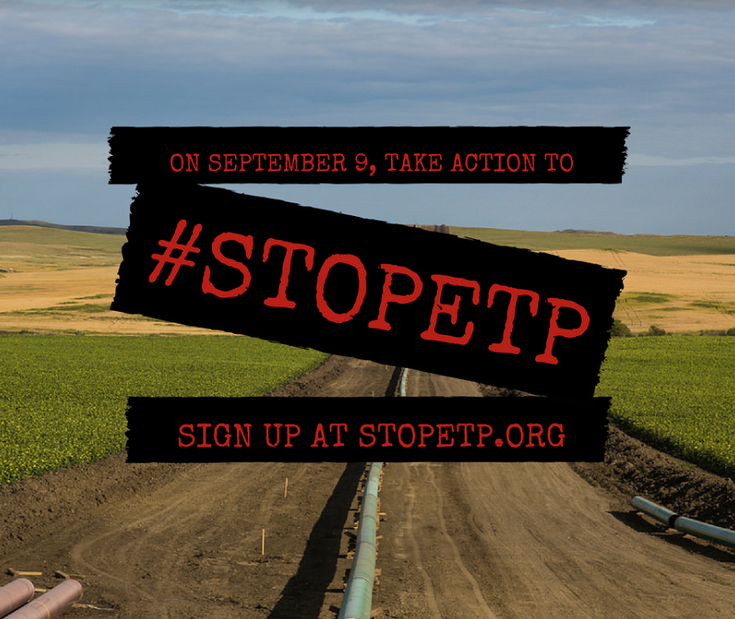 HELP Spread the Word!
TWEET:
ETP pipelines wreak havoc across the nation. Join the movement to #StopETP by hosting an event in protest on Sept. 9

stopetp.org/



Help defend indigenous rights and our water, land, air, climate from ETP pipelines. Host an event to #StopETP on 9/9! stopetp.org/
Where ETP builds, they steal land, poison air and water, and trash the climate. Help #StopETP—host an event on 9/9! stopetp.org/
POST to Facebook:
Wherever they build, Energy Transfer Partners steals land, poisons air and water, and trashes the climate. Enough is enough. On September 9th, join an emerging coalition of frontline communities and allies across the country in taking action to #StopETP by attending an event or hosting your own. StopETP.org
On September 9th, an emerging coalition of frontline communities and allies are taking action across the country to #StopETP—owner of the disastrous Dakota Access Pipeline. Join us by attending an event or hosting your own to stop Energy Transfer Partners. StopETP.org
A coalition of frontline communities and allies are taking coordinated action to force ETP to withdraw their unnecessary and damaging pipeline projects, stop violating human rights, and stop polluting the air, water, and climate. #StopETP Join us—host an event in your community on September 9th. StopETP.org