Click here to learn more: find out how you can join them – support them – Divest and Defund DAPL – and spread the word of this historic coming together of many nations to protect our precious water for the next Seven Generations.
In North Dakota, Indigenous leaders from the Standing Rock Nation are fighting the Dakota Access Pipeline (DAPL). This pipeline will carry over a half a million barrels of oil per day from the Bakken Oil Shale Fields. The route the pipeline will take, if approved, will be laid under multiple bodies of water, to include the Missouri River located a half mile upstream from the Standing Rock reservation. This river not only supplies drinking water to the tribe but is a major tributary to the Mississippi River where more than 10 million people depend on it for both human consumption and irrigation for the nation's "bread basket." This pipeline when it fails – and it will fail – will destroy land and water with little, if any, chance of remediation / cleanup. We only need to look at the devastating Yellowstone River, Kalamazoo, and many others. Protesters have continued to resist construction peacefully, despite surveillance and intimidation from the state.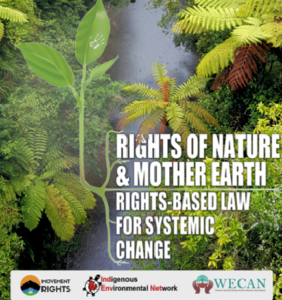 It is time to stop thinking we must protect nature and recognize that as much as every other life form on Earth, we are nature. We cannot separate ourselves from the water we drink, the food we eat or the air we breathe any more than we can care for just a single leaf on a tree. And yet, human law almost everywhere defines "nature" as property to be owned, commodified and destroyed at will for human profit. Most of the destruction of the Earth is sanctioned by law—from blowing the tops of mountains for coal; to fracturing the earth for oil and natural gas; to clear cutting the Amazon and displacing Indigenous communities. In so doing we are defying Natural Law that governs the planet's life systems. Climate disruption is the direct result of human activities pushing beyond the limits of Natural Law.
To avert the worst impacts of the climate crisis and move toward a planet in balance, we must challenge the idea that Earth's living systems are property and change our legal frameworks to adhere to the natural laws of the Earth. Recognizing Rights of Nature means that human activities and development must not interfere with the ability of ecosystems to absorb their impacts, to regenerate their natural capacities, to thrive and evolve, and requires that those responsible for destruction, including corporate actors and governments be held fully accountable.
read more
Indigenous Rising
Content from our companion website:
Mislabeled fish is flooding the marketplace and Americans may be swallowing it hook, line and sinker, according to a new study by an environmental activist group. A look at seafood sales across the country by ocean conservation group Oceana found that roughly one...
read more
Caleen Sisk, Chief and Spiritual Leader of the Winnemem Wintu Tribe, said the Tribe strongly opposes the tentative approval of genetically engineered salmon by the Food and Drug Administration (FDA). "Salmon is in our traditional stories, songs and dances," said Sisk....
read more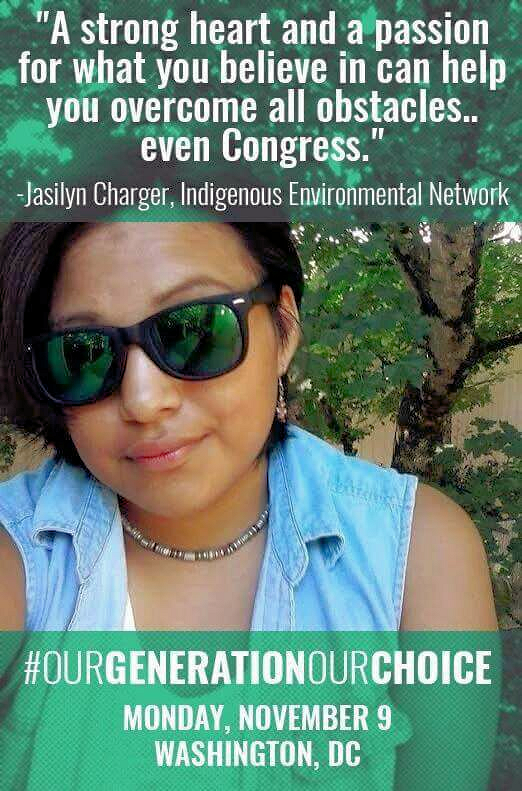 "One year out from the presidential election, youth fighting for justice on race, climate, and immigration will take to the streets of our nation's capital demanding that candidates and elected officials align their agendas with the imperatives of the crises of our time. After years of political inaction and failure, young are engaging in the political process to demand that our country invest in those things that make our communities thrive, and lead an economy in crisis to a society that works for all people.
read more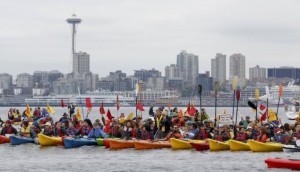 September 29, 2015 – Royal Dutch Shell has announced its plans to abandon its attempts to drill for oil off Alaska's northwest coast, citing disappointing results from exploratory wells. Native American leaders who have been campaigning against the Shell project and other extreme energy developments share their thoughts on the announcement made yesterday:
read more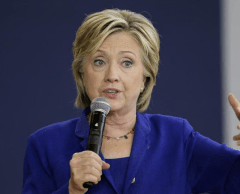 At a town hall meeting in Iowa yesterday afternoon, Hillary Clinton finally gave her position on the Keystone XL pipeline, telling the crowd, "I oppose it. I oppose it because I don't think it's in the best interest of what we need to do to combat climate change."
read more

No Results Found
The page you requested could not be found. Try refining your search, or use the navigation above to locate the post.
We, the undersigned [and aforementioned] Indigenous peoples organizations, environmental justice and environmental non-governmental organizations, urge you not to include forest carbon offsets known as REDD (Reducing Emissions from Deforestation and forest...
read more
May 7th, 2013 Dear California REDD Offsets Working Group; Dear People of the State of California; Dear Honorable Jerry Brown, Governor of California; Dear Mary Nichols, Chairman, California Air Resources Board; Dear Ashley Conrad-Saydah, Assistant Secretary for...
read more
Citizens of the World, Please sign this petition to Stop California REDD, which is the model for doing REDD throughout the world. Make history by rejecting this market-based, land grabbing false solution to climate change which is bad for the planet, bad for...
read more
By Chris Lang, 3rd April 2013 During the World Social Forum, a group of African organisations and individuals took part in the launch of a "No REDD in Africa Network". Given the problems with the REDD mechanism, REDD-Monitor welcomes critical debate about REDD, but...
read more
No REDD Network Born FOR IMMEDIATE RELEASE: March 29, 2013 Outraged by the rampant land grabs and neocolonialism of REDD (Reducing Emissions from Deforestation and forest degradation), Africans at the World Social Forum in Tunisia took the historic decision to launch...
read more
© Indigenous Environmental Network ~ All Rights Reserved ~ 2015-16
Other IEN Campaign Websites: