Click here to learn more: find out how you can join them – support them – Divest and Defund DAPL – and spread the word of this historic coming together of many nations to protect our precious water for the next Seven Generations.
In North Dakota, Indigenous leaders from the Standing Rock Nation are fighting the Dakota Access Pipeline (DAPL). This pipeline will carry over a half a million barrels of oil per day from the Bakken Oil Shale Fields. The route the pipeline will take, if approved, will be laid under multiple bodies of water, to include the Missouri River located a half mile upstream from the Standing Rock reservation. This river not only supplies drinking water to the tribe but is a major tributary to the Mississippi River where more than 10 million people depend on it for both human consumption and irrigation for the nation's "bread basket." This pipeline when it fails – and it will fail – will destroy land and water with little, if any, chance of remediation / cleanup. We only need to look at the devastating Yellowstone River, Kalamazoo, and many others. Protesters have continued to resist construction peacefully, despite surveillance and intimidation from the state.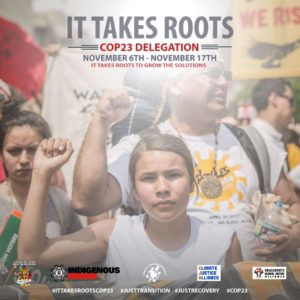 November 17, 2017, The United Nations Framework Convention on Climate Change 23rd Session of the Conference of the Parties (COP 23) has come to an end. And while progress has been made on the UNFCCC traditional knowledge Platform for engagement of local communities and Indigenous Peoples, Indigenous Peoples' rights are not fully recognized in the final platform document of COP 23. The burden of implementation falls on local communities and indigenous peoples.
read more
Indigenous Rising
Content from our companion website:
Regaining Food Sovereignty explores the state of food systems in some Northern Minnesota Native communities; examining the relationship between history, health, tradition, culture and food. By reclaiming and revitalizing knowledge and practices around tradition, local...
read more
By MICHAEL MOSS  New York Times On the evening of April 8, 1999, a long line of Town Cars and taxis pulled up to the Minneapolis headquarters of Pillsbury and discharged 11 men who controlled America's largest food companies. Nestlé was in attendance, as were Kraft...
read more

On Monday US Interior Secretary Ryan Zinke visited Bears Ears Monument in Utah to review the use of the Antiquities Act on Bears Ears. During the site visit Zinke aggressively confronted a supporter of the "Protect Bear Ears" movement after she asked him whether the secretary plans to meet with tribal leaders during his visit to Utah.
read more
The Indigenous Coalition at Standing Rock is calling for an international day of emergency actions to disrupt business as usual and unleash a global intersectional resistance to fossil fuels and fascism. Connect with other struggles. Think long-term movement building. We are in this for the long haul.
read more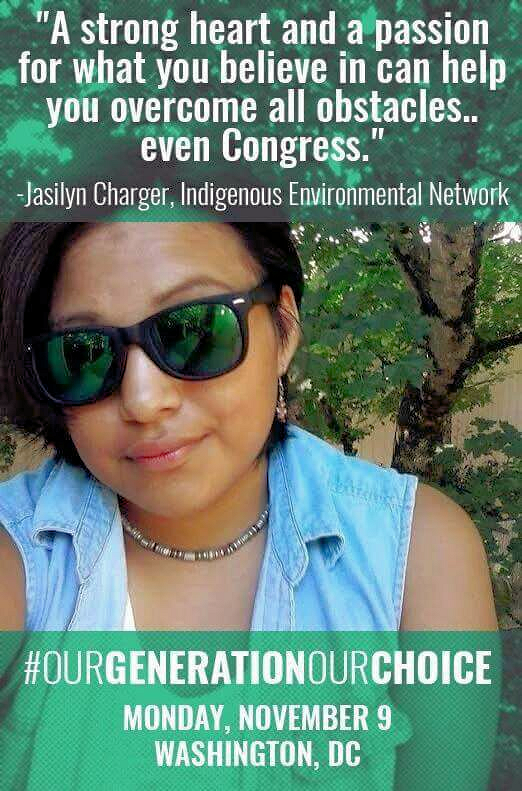 "One year out from the presidential election, youth fighting for justice on race, climate, and immigration will take to the streets of our nation's capital demanding that candidates and elected officials align their agendas with the imperatives of the crises of our time. After years of political inaction and failure, young are engaging in the political process to demand that our country invest in those things that make our communities thrive, and lead an economy in crisis to a society that works for all people.
read more

Voices from the Spirit! Bioneers National Conference Keynote Speaker Tom Goldtooth Articulates Native Vision Terri Hansen 10/24/13 Dakota/Diné Elder Tom B.K. Goldtooth, the executive director of the Indigenous Environmental Network, seemed surprised as the large...
read more
Since 1929 it was recognized that Alberta's caribou would soon need some protection and that their range was becoming limited. (Alberta Forestry Lands and Wildlife. 1986. Woodland Caribou Provincial Restoration Plan. 74pp.) Since then many promises have been made and...
read more
International Indigenous Conference APRIL 4 – 6, 2012  at Haskell Indian Nations University, Lawrence Kansas WATCH VIDEO FROM THE CONFERENCE BELOW THE ARTICLE Introduction: In April 2010, a historical moment occurred. More than 32,000 people, including Indigenous...
read more
World People's Conference on Climate Change and the Rights of Mother Earth Today, our Mother Earth is wounded and the future of humanity is in danger. If global warming increases by more than 2 degrees Celsius, a situation that the "Copenhagen Accord" could lead to,...
read more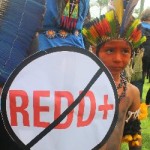 New York –A false solution to climate change known as REDD+ causes conflict and is a new form of colonialism and must be immediately canceled, Indigenous Peoples denounced at the United Nations. REDD+ (Reducing Emissions from Deforestation and Degradation) is a carbon offset mechanism that uses Nature as a sponge for greenhouse gas pollution instead of cutting emissions at source. "The sacred air we breathe is being sold to the highest bidder. We implore the UN to have compassion for humanity and Mother Earth by immediately canceling carbon trading, carbon offsets, and REDD+ projects in or near Indigenous Peoples' lands and territories" said Calfin Lafkenche of the Mapuche Nation in Chile.
read more
January 31, 2014 Last year the Government of Kenya was getting "ready" for REDD in the Embobut Forest, now it is violently evicting the Sengwer People and forcing them "into extinction." According to Survival International, "as many as a thousand homes...
read more
Statement on the UN Climate Conference in Warsaw by Tom Goldtooth, Executive Director, Indigenous Environmental Network by Global Justice Ecology Project | November 12, 2013 · 3:16 pm The United Nations climate meetings involve the big powers of the United States and...
read more
Published on Thursday, 07 November 2013 20:26 Media release of La Vía Campesina | GRAIN | ETC Group 7 November 2013. Farmers produce food, not carbon. Yet, if some of the governments and corporate lobbies negotiating at the UN climate change conference to be held in...
read more
San Francisco, Oct. 17 - Governor Jerry Brown of California was slated to receive the Blue Green Alliance's Right Stuff award for environmentalism in San Francisco this evening but did not show up perhaps because he knew it was going to be protested. Outside of the...
read more
© Indigenous Environmental Network ~ All Rights Reserved ~ 2015-16
Other IEN Campaign Websites: